Request Your Free Estimate
Custom Outdoor Kitchen Design
Are you dreaming of building your very own outdoor kitchen?
Perhaps you have a clear vision in your mind of exactly what your outdoor oasis will look like. If that's the case, click below to start the process with us!
Or maybe you're just ready to up your grilling game and are just starting to think through what a custom outdoor kitchen can offer you. Regardless of which group you fall into and no matter what size outdoor kitchen you're envisioning, you'll need a well-thought out design in order to make sure your kitchen is useable, comfortable, and affordable.
At Unlimited Outdoor Kitchens, we've been designing and creating backyard kitchens in the San Jose area since 2000. We've seen our share of kitchens of all shapes and sizes, for every budget level and yard layout.
Here's our guide to custom outdoor kitchen design—from the brainstorming phases to picking out finishes.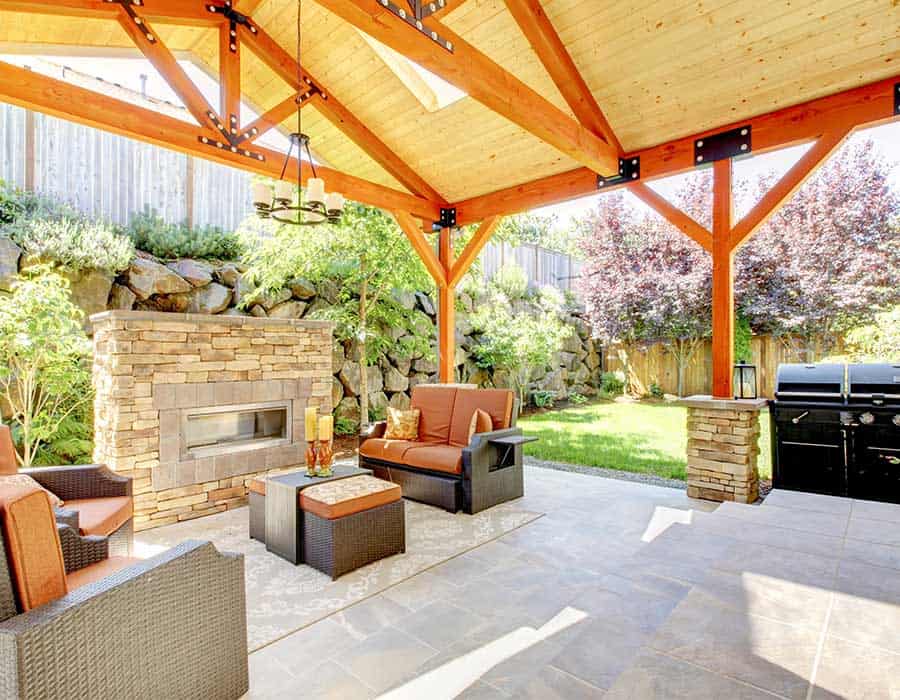 Brainstorming Stage
It's great to gather inspiration for your kitchen from sources online or in magazines. Before you go crazy adding on every bell and whistle you see, make sure you're designing an outdoor kitchen that's truly custom for you.
Designing Stage
Once you have a good idea about your goals and budgets for your outdoor kitchen, it's time to start getting the specifics nailed down. At some point during this phase, you may want to hire a professional outdoor kitchen designer. He or she can help you avoid beginner mistakes that will add to the cost and cause frustration.
1. Evaluate your space
An outdoor kitchen should not only be customized to your entertainment style and aesthetic preferences, but also should fit harmoniously into your backyard.
When choosing a spot for your kitchen, consider the following factors:
Available space
Amount of sun (including whether you have a southern or northern exposure)
Convenience to your home's back door
Levelness of the ground
Potential drainage issues
Where you can or can't run plumbing or gas lines (if needed)
Best view
Amount of privacy (and whether that's important to you)
Understanding these factors will help shape your outdoor kitchen design, and even open up new possibilities, such as taking advantage of a great mountain view. (Don't lose heart—with careful planning, even a small backyard can support a great outdoor kitchen design!)
---
2. Determine your kitchen's layout and size
Once you know the usable space in your backyard and what features you want, you can start getting specific about size and dimensions.
First, determine the "zones" in your outdoor kitchen. This is a major factor in determining the kitchen layout—from both a safety and a convenience point of view.
The Hot Zone
Virtually all outdoor kitchens include this zone, since it's where you have your grill, pizza oven, or any other cooking surface.
The Dry Zone
Another pretty universal feature for outdoor kitchens, the Dry Zone includes the counter space you'll use to chop, season, and store food before and after going to the grill. It should be convenient to the Hot Zone.
The Wet Zone
If your kitchen includes an outdoor sink or a tub for chilling beverages, you'll want to make sure it doesn't infringe on the space set aside for the Dry Zone (though it may be adjacent).
The Cold Zone
This is where your outdoor refrigerator, freezer, or wine cooler will be, if you have one. You'll want to keep the Cold Zone as far as possible from the Hot Zone for safety's sake, since it's the part of the kitchen where guests (potentially including children) are most likely to swing by and grab something. It's also more energy efficient to keep these appliances separated.
The Seating Area
Though this isn't an official "zone," you'll want to consider whether you want your guests to eat at a separate table or seating area, or if you'll set up bar stools and have them eat at your counter. You'll also want to keep this area away from the Hot Zone for safety.
Once you know your Zones, you can plan the kitchen layout, and start getting specific about how much counter space you'll need. Here are a few guidelines for safety and convenience:
36" of continuous counter space for your Dry Zone (prep area)
24" of counter space on one side of a grill or pizza oven and 12" on the other (this can count as part of the Dry Zone)
18" of counter space on either side of an outdoor sink
12" counter space on either side of a side burner
You can include more counter space than this if you'd like. Just note that more materials will bring up your costs—and can mean more walking from one side of your kitchen to the other.
Read more: Planning the size of your outdoor kitchen
---
3. Choose your appliances
Once you're pretty well settled on the general design, it's time to decide on the style and sizes of your appliances. This will allow you to get more accurate measurements for your kitchen design.
You may even want to pick out the exact models for your key appliances, such as a pizza oven, while just choosing which standard dimensions you'll want for others, such as a mini refrigerator. You'll want to pay special attention to finding the right grill—after all, it's the heart of your outdoor kitchen and will get the most use!
Consider whether any of your appliances will require insulation, vents, or fans. Don't forget about things like gas lines, if you don't want a refillable propane tank on the site, and plumbing if you plan to have an outdoor kitchen sink.
Be sure any appliance you choose is graded for outdoor use and is rust resistant. In general, 304-graded stainless steel is going to be your best option.
Read more: What appliances do I need for my outdoor kitchen?
---
4. Choose your finishes
Once you've gotten your layout and appliances figured out, you can start making decisions on your preferred aesthetic.
Of course, choosing finishes for an outdoor kitchen is very different than designing an indoor kitchen, since everything must be able to withstand rain, direct sunlight, and extreme temperatures. Any metal used (even for drawer knobs) should be rust-resistant, and wood finishes should be treated to be weather-resistant—or avoided all together.
Special care should be taken in choosing the countertop material, since this makes up the largest exposed area of your kitchen and creates the biggest visual effect. Your choice depends both on your budget and your personal taste. Popular options for outdoor kitchen countertops include:
Flagstone
Sealed Concrete
Tile
Composite or laminate (will need additional protection during the winter or heavy rains)
---
5. Get your blueprints nailed down
Before you can move on to the building phase, you'll need to have blueprints prepared that measure everything accurately, right down to the tiniest details. This will allow you to identify any trouble spots (such as difficulty fitting an appliance into the design), plus make it possible for you or a contractor to actually build your vision.
You don't want any guesswork here—no sketches on a napkin at this point in the game! Invest in a CAD-style architectural drawing program if you need to. Better yet, work with a professional designer who can ensure you have a workable plan.
Building Stage
Here's where the dream becomes reality. Be honest about how much you'd like to be involved with construction, installation, and putting on those finishing touches. You'll want to find a contractor who's willing to let you be as involved (or uninvolved) as you like, so you'll enjoy the whole process.
1. Decide how much of the building you'd like to do.
Some people are the DIY type that like to be involved in every aspect of a home improvement project. Others prefer to let contractors do the heavy building and appliance installation, but want to be involved with aesthetic additions. Still others are happy to let the professionals work while they plan their inauguration cookout.
Whatever your style, find a contractor who will let you be as hands-on or hands-off as you like.
---
2. Find the right contractor
Finally, you'll want to find an outdoor kitchen contractor who will not only bring your vision to life, but put the same care and attention to detail into it as you would. You'll want someone who doesn't take shortcuts and uses high-quality, weather-resistant materials that will last for years to come.
At Unlimited Outdoor Kitchen, we build sturdy kitchens with welded steel frames (to prevent fire and earthquake damage), use mold-resistant and rust-proof materials, and work with local suppliers to give our customers access to high-quality finishes and appliances.
We provide as much (or as little) design, construction, and installation help as you want, and offer free, to-the-penny estimates before we start work.
Get the process started!
No matter where you are in the design process, if you're ready to see your outdoor kitchen plan come to life, use the form below to request your free estimate, or call (650) 279-6506 today.